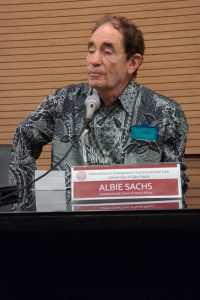 On November 3, 2016, Albie Sachs, former judge of the Constitutional Court of South Africa, held the closing lecture of the International Dialogues in Constitutional Law series in 2016. After his lecture, there was also a signing session of the Brazilian edition of Sachs' autobiographical book, The Strange Alchemy of Life and Law (translated into Portuguese by Saul Tourinho Leal).
Following the narrative of his book, in his lecture Sachs referred to personal events, both as a judge of the Constitutional Court and as a political activist in defense of public liberties.
According to Sachs, an important function of a constitution is to ensure the coexistence of groups with different ideologies, religions, sexual orientation etc. He argued that, for this to happen, it is necessary to promote equality in the recognition of rights. Sachs presented his role in the decision of the Fourie case on same-sex marriage in South Africa. He also addressed the issue of political reconciliation in South Africa in the post-apartheid period, also through a personal narrative involving the perpetrator of the attack he had been a victim while still in exile in Mozambique.
The participation of Albie Sachs in our series of debates was supported by Saul Tourinho Leal and the AJD – Judges for Democracy Association.